Waiting on Wednesday is a meme hosted by Jill at Breaking The Spine that spotlights upcoming releases that everyone's excited about!
Here are 5 I'm looking forward to!
          Release Date: May 3rd, 2016
Goodreads Synopsis:
When Harry Met Sally for YA romance readers. This opposites-attract love story is perfect for fans of Huntley Fitzpatrick, Stephanie Perkins, and Jenny Han.
 
June wants high school to end and real life to begin. Oliver is soaking up senior year's glory days. They could have coasted through high school, knowing about—but not really knowing—each other.
Except that their moms have arranged for Oliver to drive June to school. Every. Single. Day.
Suddenly these two opposites are fighting about music, life . . . pretty much everything. But love is unpredictable. When promises—and hearts—get broken, Oliver and June must figure out what really matters. And then fight for it.
My Thoughts: If you know me, you know I love a good romance, especially ones that start out as hate and turn into love. There's never a dull moment.
2) All in Pieces by Suzanne Young
    Release Date: November 8th, 2016
Goodreads Synopsis:
From New York Times bestselling author Suzanne Young comes a heartrending new novel about a girl struggling to deal with anger issues while taking care of her younger brother with special needs.
"Anger-management issues."
That's how they classified Savannah Sutton after she stuck a pencil in her ex-boyfriend's hand because he mocked her little brother, Evan, for being disabled. That's why they sent her to Brooks Academy—an alternative high school that's used as a temporary detention center.
The days at Brooks are miserable, but at home, life is far more bleak. Savvy's struggling to take care of her brother since her mom left years ago, and her alcoholic dad can't be bothered. Life with Evan is a constant challenge, but he's also the most important person in the world to Savvy.
Then there's Cameron, a new student at Brooks with issues of his own; a guy from a perfect family that Savvy thought only existed on TV. Cameron seems determined to break through every one of the walls Savvy's built around herself, except if she lets herself trust him, it could make everything she's worked so hard for fall apart in an instant.
And with her aunt seeking custody of her brother and her ex-boyfriend seeking revenge, Savvy's fighting to hold all the pieces together. But she's not sure how much tighter she can be pulled before she breaks completely.
My Thoughts: I love anything Suzanne Young writes, so I have no doubt I'll enjoy this one, plus the premise sounds very intriguing.
3) This is Our Story by Ashley Elston
     Release Date: November 15th, 2016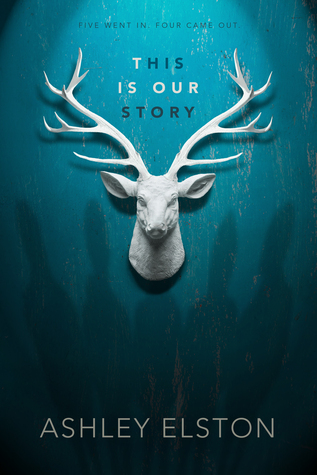 Goodreads Synopsis:
No one knows what happened that morning at River Point. Five boys went hunting. Four came back. The boys won't say who fired the shot that killed their friend; the evidence shows it could have been any one of them.
Kate Marino's senior year internship at the District Attorney's Office isn't exactly glamorous—more like an excuse to leave school early that looks good on college applications. Then the DA hands her boss, Mr. Stone, the biggest case her small town of Belle Terre has ever seen. The River Point Boys are all anyone can talk about. Despite their damning toxicology reports the morning of the accident, the DA wants the boys' case swept under the rug. He owes his political office to their powerful families.
Kate won't let that happen. Digging up secrets without revealing her own is a dangerous line to walk; Kate has her own reasons for seeking justice for Grant. As she and Stone investigate—the ageing prosecutor relying on Kate to see and hear what he cannot—she realizes that nothing about the case—or the boys—is what it seems. Grant wasn't who she thought he was, and neither is Stone's prime suspect. As Kate gets dangerously close to the truth, it becomes clear that the early morning accident might not have been an accident at all—and if Kate doesn't uncover the true killer, more than one life could be on the line…including her own.
My Thoughts: This one sounds creepy and suspenseful. I love creepy and suspenseful.
4) The Odds of Lightning by Jocelyn Davies
     Release Date: September 20th, 2016
Goodreads Synopsis:
A bolt of lightning inspires an incredible journey in this charming, magical realism adventure that takes four teens on an all-night journey through the streets of New York City.
Extraordinary things happen when we least expect them.
Tiny, Lu, Will and Nathaniel used to be best friends. Then life-defining events the summer before high school tore them apart. Now, three years later, they hardly talk anymore. Nathaniel has become obsessed with winning the prestigious science scholarship that his genius older brother once won. Will has risen from anonymity to popular soccer star. Lu grew into a brash, impetuous actress. And shy, poetic Tiny has slowly been fading away.
But fate weaves their lives together again the night before the SATs, during a wild thunderstorm that threatens to shut down New York City. And lightning strikes.
Before they know what's hit them, the four teens embark on an epic all-night adventure to follow their dreams, fall in and out of love, reconcile the past, and overcome the fears that have been driving them since that one lost summer. And by the time the sun rises, odds are they'll discover that there's a fine line between science and magic, and that the mysteries of love and friendship can't be explained.
My Thoughts: First off, can we talk about how freaking gorgeous that cover is?? Seriously. I love the concept of old friends being brought together again during a thunderstorm, reminiscing and finding each other all over again. And in NYC no less! I love it.
5) The Creswell Plot by Eliza Wass
     Release Date: June 7th, 2016
Goodreads Synopsis:
Castella Cresswell and her five siblings—Hannan, Caspar, Mortimer, Delvive, and Jerusalem—know what it's like to be different. For years, their world has been confined to their ramshackle family home deep in the woods of upstate New York. They abide by the strict rule of God, whose messages come directly from their father.
Slowly, Castley and her siblings start to test the boundaries of the laws that bind them. But, at school, they're still the freaks they've always been to the outside world. Marked by their plain clothing. Unexplained bruising. Utter isolation from their classmates. That is, until Castley is forced to partner with the totally irritating, totally normal George Gray, who offers her a glimpse of a life filled with freedom and choice.
Castley's world rapidly expands beyond the woods she knows so well and the beliefs she once thought were the only truths. There is a future waiting for her if she can escape her father's grasp, but Castley refuses to leave her siblings behind. Just as she begins to form a plan, her father makes a chilling announcement: the Cresswells will soon return to their home in heaven. With time running out on all of their lives, Castley must expose the depth of her father's lies. The forest has buried the truth in darkness for far too long. Castley might be their last hope for salvation.
My Thoughts: Very unique sounding plot, and I'm interested to find out more about how God comes into all this, despite not being religious myself. Also, I've always loved stories about people who are different than everyone else, trying to fit into the world of judgment that is high school. I love reading about complicated sibling relationships as well.
Which of these are you looking forward to the most?