I discussed my favorite scifi and fantasy reads of the year. Now it's time to review my favorite contemporaries!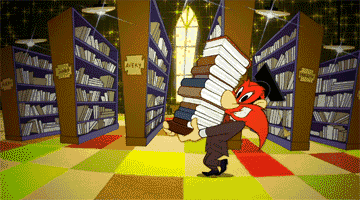 I will never understand people who refuse to read contemporary, or who say it's boring. Some of the most life changing books I've ever read have been contemporary. So here's a look at those I adored in 2018:
Starry Eyes by Jenn Bennett
Jenn Bennett never ever EVER disappoints. I have adored every single one of her YA romances. Her books are just utter perfection, every time. I don't know how she does it. I'm always left with a feeling of pure, satisfied contentment at the end of each of her books. The characters are perfectly messy and perfectly complex. The love stories are perfectly complicated and steamy and realistic. If I had to choose one author to read for the rest of my life, it would be Jenn Bennett.
The Nowhere Girls by Amy Reed. The Nowhere Girls is about a group of high-school girls who team up to fight sexism and demand respect from their male classmates. It's sex positive, diverse, and painfully honest. It has 3 main characters: an autistic girl, a queer latina girl, and a fat girl. I thought the autism rep was amazing considering it's not Own Voices.
The Art of French Kissing by Brianna R Shrum. Baking, cooking, enemies-to-lovers romance. Basically, if you love food and romance, this is the book for you. It follows Carter Lane as she attends a summer scholarship competition to get into her top choice chef school. The love interest is Japanese and multisexual. They start off as rivals competing for the top spot, constantly bickering and pranking each other, but they end up falling for each other over the course of the summer. I loved the witty banter between them, the way they bonded over food, and the way they went from hating to loving each other. Hands down one of the sweetest, most heartwarming reads of this year.
The Only Thing Worse Than Me is You by Lily Anderson. A Much Ado About Nothing retelling, this quirky story follows a hate-to-love romance between Trixie and Ben, academic rivals at a super elite private school full of geniuses. Trixie is a lovably complex main character-she's ambitious, competitive, snarky, combative, protective, loyal, witty, clever and frustrating as hell. As Trixie works to uncover the person who anonymously accused her best friend of cheating, thereby getting her expelled, she and Ben grow closer over a shared love for Doctor Who and Comics. I loved every second of this book, I loved all the side characters as much as I loved Trixie and Ben, and I was unable to put the book down until I finally discovered who had framed Trixies best friend for cheating. I can't wait to read more of Lily Anderson's contemporaries.
You Were Here by Cori McCarthy. Definitely one of the most original books I've read this year, as one of the multiple pov's is told in graphic novel format. That was really refreshing, to see something so different from what I'm used to. You Were Here is a sad story, because it's about a girl grieving her dead brother, but it's also a hopeful one full of second chances, newfound love and important self discoveries.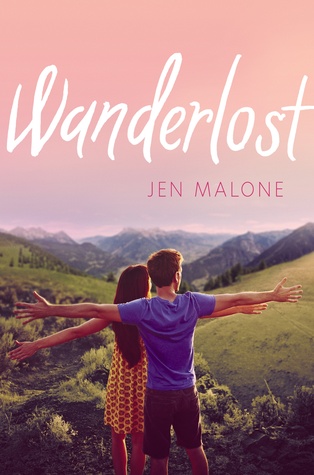 Wanderlost by Jen Malone. I love books that take place in foreign countries. It's nice to read stories that focus on settings outside of the U.S. Wanderlost is a quick, light-hearted read about a girl romping across Europe, falling for the wrong guy, and a huge case of mistaken identity. It's the perfect book to get lost in and relax while reading. Super cute, smart, and full of important life lessons.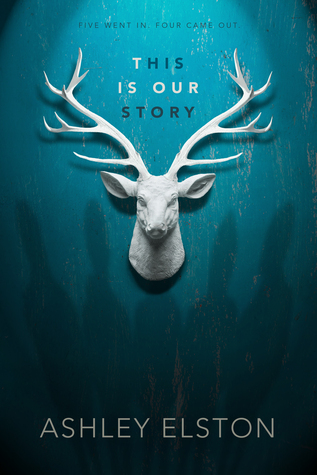 This is Our Story by Ashley Elston. I never thought I'd fall in love with a male character who owns a gun and shoots for sport. But Ashley Elston proved me wrong. To be fair though, it's not like he was an ultra conservative, redneck gun lover. Hunting was more just a thing to do with his friends. And overall he was very sensitive, considerate and smart. Anyways, I loved the mystery of this book; how it kept me guessing at every turn, how it constantly threw unexpected revelations my way, how we got glimpses into the killers pov. I loved the interesting angle the romance took, and the way the main character took it upon herself to investigate the murder, even at the risk of her own safety. The girl was bad-ass.
Dead Girls Society by Michelle Krys. Another dark mystery story, with lots of thrills, near-death encounters, blackmail, friends-to-lovers romance and complicated new friendships. I couldn't put this one down even as I was terrified to see what would happen next. It follows a group of girls who are being blackmailed into performing a series of dangerous dares in which they can literally die trying to accomplish. But if they complete them, they're looking at thousand of dollars in prize money. The main character, Hope, has cystic fibrosis, so some of the dares could quite possibly result in the loss of her life. But it's already too late to back out, even if she  might not make it to the end alive. I was biting my nails the entire time and the never saw the plot twist coming. The romance between Hope and her best friend Ethan was cute and didn't overshadow the mystery/suspense story-line. I definitely wanna read more of Michelle's books in the future.
The Birds the Bees and You and Me by Olivia Hinebaugh. This was one of the most well written sex-positive contemporary YA's I've ever read. It follows a girl as she and her friends fight their schools harmful abstinence only sex education system. It includes discussions of safe sex, queer sex, oral sex and all other methods of sex and how to engage in them in a safe, consensual way. A very important book for teens. It also has a lovely friends-to-lovers romance and some wonderful friendships, both new and old. One of the main character's best friends is asexual and bi-romantic, and I really appreciated that little bit of rep.
My Sister Rosa by Justine Larbalestier. My Sister Rosa is about a guy whose little sister is an undiagnosed psychopath. She meets nearly every criteria on the psychopathy diagnostic checklist. But it seems like no one can see who she really is except for Che, because she hides behind her adorable little girl disguise so well. Che figures it's only a matter of time before Rosa kills someone. But he doesn't know how to stop her when she's so good at hiding who she is, and getting away with everything. This book was suspenseful from start to finish and I felt terrified the entire time I was reading, of what Rosa would do next. It was extremely interesting reading about a teen boy with a literal psychopath for a sister, and all the ways that she was able to manipulate, control and hurt everyone around her. It was compelling, dark and original and unlike anything I've read before.
Honorable Mentions:
Yes, there's more! These books may not have made my top ten list but I still thoroughly enjoyed them all the same. They cover a wide range of topics from mental illness to family issues to complicated sibling relationships to romance and coming of age lessons and all that jazz.
You know what? I just realized The Supervillain and Me isn't technically contemporary. Cause ya know, superheroes and superpowers. Oops. But I'm gonna keep it right here anyways cause it felt more like a contemporary than a fantasy to me.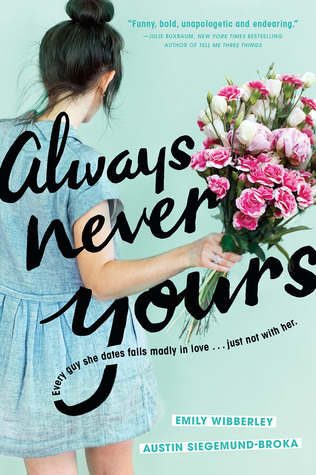 And that's it for contemporary! Check in soon for my favorite New Adult/Adult reads of the year, in my next blog post!