HAPPY 2019!!!!!!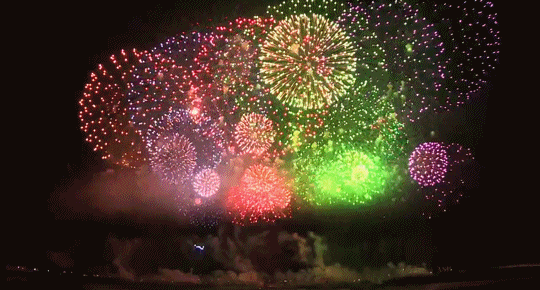 It's fiiiiiiiiiinally time to look back on 2018 and talk about my favorite reads of the year. I read a total of 135 books this year and discovered many new ones to add to my favorites list. So let's take a look at them! Starting with scifi, fantasy and dystopian: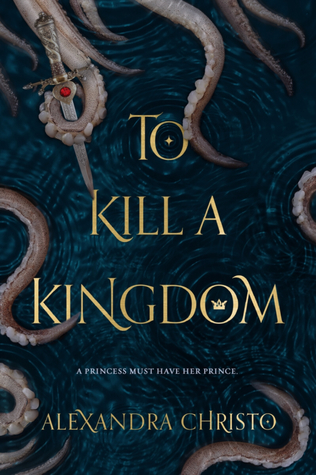 To Kill a Kingdom by Alexandra Christo. I love books about mermaids, sirens and morally grey characters who redeem themselves. This one was no disappointment. Dark, romantic, adventurous and told in the pov's of two very intriguing, complicated characters. I loved every minute of it.
Ever the Hunted  by Erin Summerill. I listened to Ever the Hunted on audiobook, and I definitely credit that as one of the reasons I loved it so much. The audiobook narrator has a British accent and such a calming, beautiful voice for storytelling. She really added to the magic of the love story and the setting.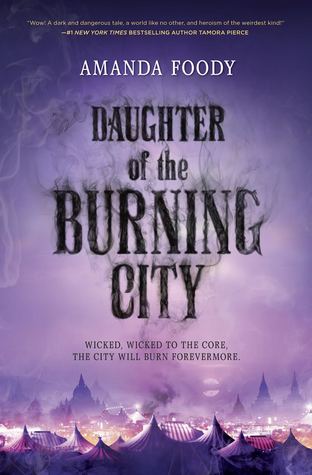 Daughter of the Burning City by Amanda Foody. As soon as I started reading, I was hooked. I mean, a main character without eyes, without eye sockets? Whose family and best friends are all technically imaginary,? Illusions? How does that not make you want to keep reading? There's also the fact that the main character is a bisexual girl, falling in love with a guy who is demiromantic and demisexual. It's amazing to see queer rep that doesn't come up often in books, and it's nice to see bisexual characters in m/f relationships, cause they're just as valid as those in same sex relationships. And then of course there's the story itself: the murder/mystery aspect, the traveling circus of illusions. I loved this mystical, captivating read from start to finish and I can't wait to read more of the author's books.
Of Fire and Stars by Audrey Coulthurst. I love stories about princesses, about characters who have forbidden magic, and about characters who start off strongly disliking each until they fall in love. Of Fire and Stars is about two princesses who fall in love, despite the fact that one of them is engaged to the others brother, as part of an arranged marriage. One of them has magic she's trying to hide, for magic is seen as something abominable and is illegal. They don't get along very well at first, but the more  time they spend together, they more they fall for each other. I loved how slow-burn their romance was, how it grew from hatred to friendship to something more. I enjoyed the kingdom politics, the mystery, and the magic system as well. And there's gonna be a sequel!! I can't wait.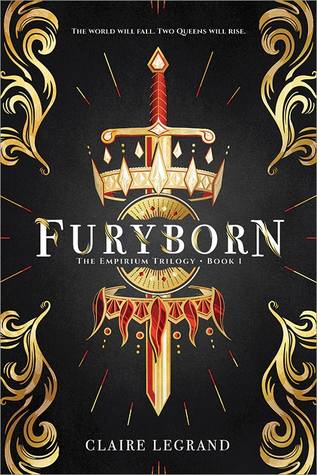 Furyborn by Claire LeGrand. Claire LeGRand became one of my new favorite authors this year. I read all 3 of her new adult books and fell head over heels for each and every one of them. All 3 books have bisexual or lesbian or otherwise queer main characters, so not only were the stories magnificent, but they had excellent lgbtq rep too.
Winterspell by Claire LeGrand. Winterspell is a dark and twisted retelling of The Nutcracker, with a bisexual victorian heroine, giant killer rats, and lots of romance, fighting, and magical powers. I loved every dark minute of it.
Sawkill Girls by Claire LeGrand. Sawkill Girls is basically Shutter Island meets Stephen King, but with a lot more female and queer characters. There are 3 female main characters; Zoe, who's asexual, Marion, who's bisexual, and Val, who's gay. They are each wholly unique and lovable in their own ways. They're unlikable at times but you'll still be rooting for them the whole time. The story is terrifying, dark, atmospheric and mysterious. So far, every single one of Claire's books have blown me away.
Wandering Star by Romina Russell. I enjoyed this sequel immensely more than the previous book. I'm not entirely sure why. Maybe because the main character seemed so much more mature after all she'd been through? Maybe cause the romance was even steamier than before?  Maybe cause the story just flowed so nicely and the characters felt more developed? Whatever the reason, I greatly enjoyed this one and can't wait to read books 3 and 4.
Revenge and the Wild by Michelle Modesto. I'm always looking for more books with western settings, and Revenge and the Wild had been sitting on my shelf for quite some time before I decided to finally pick it up. I don't know what the hell took me so long. It far exceeded all my expectations, and the only thing I hated was that it had to end so soon. It had so many things I love: a western setting, steampunk, a friends-to-lovers romance, mystery, suspense, creepiness, and…….cannibals. Yes, I find books with cannibals to be a really interesting plot point. It really adds to the whole creepy factor.
The Imposter Queen by Sarah Fine. Another book with a bisexual main character and a m/f romance. Those are probably my favorite kind of bisexual books, since I myself am a bisexual girl with a preference for guys. Anyways, everything about this book was perfect; the steamy romance, the fights for survival and the reverse "chosen one" plot line. The Imposter Queen is the first in a trilogy. However, I found out some spoilers so upsetting they made me not want to read the next two books. Spoilers that I went purposely looking for cause I had a bad feeling. So while I do highly recommend this book, I'm not sure I can recommend it as a series. Read all 3 of them if you want, but you've been warned. I'm personally just gonna pretend that the first book ended 100% happy and with no open ends, thank you very much.  If you  want more details, DM me on twitter or instagram, both at Beccasbookrealm.
The Diviners by Libba Bray. I buddy-read The Diviners with 3 of my friends. We made a group dm chat on instagram and chatted about the book as we read. And every single one of us adored everything about it. It takes place in the 20's is told from the multiple pov's of young people-some of whom have mysterious supernatural abilities. As they try to get to the bottom of a series of grisly murders, they find that may be the work of something inhuman. It was deliciously creepy, romantic, suspenseful and beautifully written. I plan to pick up the sequel asap.
Burning Glass by Kathryn Purdie. This one took me by pleasant surprise. I was blown away by the author's mature writing style and the slow paced yet captivating story telling. I was captivated by the complex characters, the journey to redemption and the slow burn romance. I'm always intrigued by books about ordinary characters finding themselves thrown into the world of royalty and riches. The main character's powers made for an interesting plot point too; she's able to feel and absorb the emotions of those around her, and therefore is tasked with protecting the crown prince from any would-be assassins. The final book in the trilogy came out recently, so I'm gonna hop right on finishing up this series cause I can't wait to see what happens next.
This Cruel Design by Emily Suvada. This Mortal Coil was one of my favorite reads of 2017, and its sequel was no exception. It was a little more painful though, cause the second book in a series generally is. Higher stakes, more romance complications, new obstacles. And that ending? Holy shit. That was just cruel. And now I have to wait a whole 'nother year for the last book? OUTRAGEOUS!
The Falconer by Elizabeth May. This book had been sitting on my Kindle for quite a while. I didn't really plan on reading it anytime soon, until I found that the author was recently diagnosed as Autistic. I love reading books by other Autistic people, whether or not they contain Autistic characters. And I'm so glad I picked this one up so suddenly. I love a bad-ass female character who's strong in both body and spirit. I love human-faerie romances that are slow burn and complicated. I can't wait to read the next book in this series.
Girls of Paper and Fire by Natasha Ngan. What a beautiful, magical love story between two young women fighting to survive and hold onto who they are. I loved this queer Asian fantasy with it's strong willed female characters, humans with animal features, forbidden romance, harsh royal setting, revenge and rebellion. I'm dying for book two.
In the Afterlight by Alexandra Bracken. It took me a while to get through this one. Not because I wasn't enjoying it, cause I was. I'm just terrible at finishing series because I don't want them to end and often the final book in a series brings lots of heartbreak and at least one character death. So I had to step back for a few months when I sensed a death coming up. I was about 70% through the audiobook. And sure enough, when I finished it earlier this month, a character was left dead. It was tragic and awful and depressing but I still absolutely loved this book from beginning to the wonderful, hopeful ending. I just hated having to say goodbye to all the characters.
Children of Blood and Bone by Tomi Adeyemi. An African inspired fantasy, Children of Blood and Bone is a story of adventure, magic, oppression, rebellion, and standing up to authority. Its got complicated romance, unexpected new friendships and self discovery. It's devastating at times; hopeful at others. I adore every main character and I'm anxious to see where their journey leads them next.
Mirage Somaiya Daud. I also buddy-read this one with a friend. We both loved it. It's full of Moroccan inspired settings, high stakes, difficult choices, complicated characters that are both likable and unlikable, and forbidden romance. Princess Maram is one of those characters that you can easily love and hate at the same time, and Idris is the kind of sensitive but quick witted and intelligent love interest I adore. I can't believe I have to wait a year or so for the sequel. And yes, I know that's like the 38793th time I've said that. So many great new beginnings to series came out this year!!
The Dreadful Tale of Prosper Redding by Alexandra Bracken. Prosper Redding is the first Middle Grade novel I have read since I was of middle grade age myself. And I loved every minute of it. I suspected I would, because Alex is one of my favorite authors ever. It somehow manages to be light-hearted and dark at the same time. It's hilarious, it's heart warming, it's weird, it's sharp witted, It's the perfect fall read. I have an ARC of the sequel, which comes out in February, and I'm hoping to get to it soon!
Honorable Mentions:
I know this may seem like a lot of favorites and honorable mentions….but you've got to keep in mind that I read 135 books this year, and that I generally love or at least like most books I read. Therefore, I'm bound to have many favorites. And these are just the scifi/fantasy/dystopians.
And that's it for SFF and Dystopian. Check back soon for my favorite contemporary and adult reads of the year!