I read a total of 9 books this month! In order to keep track of where I am with my reading goals, I'll add how many books of each category I read in my monthly wrap-ups; diverse books, sequels, middle grade and adult, etc. Although I'll list any diversity each book has, I'll only actually count a book as diverse if the main character themselves is of a diverse identity that's overtly stated in the text. If the love interest is a person of color, bisexual, etc, I'll make note of that but won't count it as a diverse book.
Diverse books read: 3 (The Nowhere Girls, Lucky Few and The Summer I Wasn't Me)
Books read by diverse authors: 3 (Neal Shusterman, Kathryn Ormsbee and S Jae. Jones)
Own Voices books read: 0
Sequels read: 0
Middle grade read: 0
New adult/adult: 0
Graphic novels/comics read: 3 (for school)
Longest book read: Wintersong (448 pages)
Shortest book read: Scythe (335 pages)
Favorite read of the month: Gray Wolf Island, The Nowhere Girls, Truthwitch and Scythe
Least favorite read of the month: The Summer I Wasn't Me
Gray Wolf Island by Tracey Neithercott
Something about the cover, title and synopsis of Gray Wolf Island had me deeply intrigued the minute I came across it. Although the ending left me feeling slightly dissatisfied- which I think was mostly just because I didn't want to say goodbye to the characters so soon- overall I enjoyed it very much. The characters are imperfect and unforgettable, each with secrets of their own, and they really just made me think, a lot.  About what makes a person bad or good, about forgiveness and the choices that define us.
Gray Wolf Island is a mystery, surrounding a treasure hunt on a mysterious island but it's also a story about the power of friendship and secrets. There's a sweet romance too, between the main character and a wannabe "bad boy" who's really just an adorable nerd. I cried and laughed and experienced many different conflicting emotions regarding some of the characters. Although the end results of their treasure hunt felt a little anti climatic, Gray Wolf Island is a book that I thoroughly enjoyed and definitely won't ever forget. The characters worked their way into my heart and I fell in love with their emotional journey and their relationships with one another.
Format read: Kindle ebook
Release date: November 2017
Genre: YA mystery/supernatural
Diversity: Charlie, one of the main characters, is Korean
Rating: 4.5/5 stars
The Valiant by Lesley Livingston
I haven't read many fictional books set in ancient Rome, yet alone featuring female gladiators, so The Valiant was lots of fun to read. Fallon's story is one of loss, love, inner strength and personal growth as she's forced to fight for survival and freedom in a harsh new unfamiliar environment; in the territory of her enemies. There was a strong female friendship I loved, between Fallon and a girl she initially didn't get a long with, and a quasi enemies-to-lovers romance that was sweet and built on mutual respect. There's a lot of blood and violence and a good amount of action, but what I enjoyed most was Fallon's emotional journey as she grew to accept her new circumstances and learned to move forward and make the best out of the abrupt change in direction her life had taken.
I enjoyed reading The Valiant, although it was slow in parts and I had some moments of frustration towards some of the character's actions. I don't find myself dying to jump into the sequel because the ending felt mostly satisfying and the story wasn't wholly memorable or captivating, but I will pick it up eventually just to see more of the Fallon and Cai and the rest of the characters.
Format read: ARC paperback
Release date: February 2017
Genre: YA historical (Greek and Roman)
Diversity: none
Rating: 4/5 stars
The Summer I Wasn't Me by Jessica Verdi
The main thought I had while reading this book is that it felt kind of like a watered down version of The Miseducation of Cameron Post by Emily M. Danforth. The book is set at a gay conversion camp but takes place in modern day instead of the 90's. The central lesbian romance was cute enough, but felt a little forced and bland to me. I felt like I didn't really get to know the love interest, Caroline at all. There were a lot of tough topics brought up but some of what went on at the camp seemed a little dramatic at times, a little unbelievable and ridiculous. I mean, I can't speak from experience as to what it's like in these camps but The Miseducation of Cameron Post felt more realistic to me than The Summer I Wasn't Me.
What I did like about The Summer I Wasn't Me were the strong friendships formed between the main character Lexi and some of the other kids at camp-especially Michael, who was hands-down my favorite character, with his witty remarks and the way he always spoke his mind and was very open in his disdain towards a camp meant to turn people "straight." I'm glad he was a central character to the story. Overall, I would've liked to feel more chemistry in the romance department and although I sympathized with Lexi, I didn't become all that attached to her or her story.
Format read: paperback
Release date: April 2014
Genre: YA contemporary LGBT romance
Diversity: lesbian main character, gay secondary characters, a central f/f romance
Rating: 4/5 stars

The Nowhere Girls by Amy Reed
The Nowhere Girls is one of the most powerful books I've read this year. I've described it as a 2.0 to Jennifer Mathieu's Moxie (which I loved) because it's so much more diverse and tackles a wider range of issues among young women. It follows a group of girls who start a club at their highschool to protest rape culture and stand up to their sexist classmates, namely the three boys who were accused of rape by a girl who formerly attended the school. Although there are 3 main characters from which we're given different points of view, there are also various perspectives scattered throughout the book from anonymous girls of all different types, experiencing all manner of sexism and discrimination. It made the book feel all the more raw, as it really highlighted the ugly stuff that many teens girls and women experience.
As for the diversity, all 3 of the main characters are diverse: Rosina is a latina lesbian, Grace is fat and Erin is autistic, diagnosed with Aspergers. They're each vastly different from one another and come from very different backgrounds and households.
As an autistic person myself, I felt that Erin's character was a very accurate representation of a teen with autism, even if I couldn't relate to her myself all that much. Every autistic person is different, so just because I couldn't see myself in her doesn't mean the representation was innacurate. Erin did have some stereotypical mannerisms and traits but the author addressed that and I felt that overall she gave a very educated portrayal of an autistic person. Rosina was a very feisty character with a sharp tongue and Grace was shy but strong-willed and determined to bring justice to the girl who was raped by three boys at her school and bullied into silence. Together, I thought they made a very dynamic trio.
Format read: ARC paperback
Release date: October 2017
Genre: YA contemporary
Diversity: there are 3 main characters and they're all diverse: Grace is fat, Rosina is latina and a lesbian, Erin is autistic
Rating: 5/5 stars
Truthwitch by Susan Dennard
Although I'd seen Truthwitch floating around for awhile before I decided to read it, I never really had any interest in it for the longest time. For some reason I cast it off as a book I had no desire to read. I'm not sure why exactly and I can't remember what it is that made me change my mind but I'm so glad I decided to give this one a go! Truthwitch is what I would call a "friendship book" first and foremost. A lot of the storylines focus is on the relationship between best friends Safiya and Iseult, and the lengths each of them will go to protect the other.
The book is told from four different pov's: Safiya, Iseult, Prince Merik and Aeduan, one of the antagonists. There is a budding romance between Safi and Merik that I can't wait to see develop more in the following books and I get the sense that Aeduan isn't as evil a character as I first presumed him to be. So I'm looking forward to seeing how all four characters and the relationships between them grow in book 2. There's also quite a bit of fighting and action throughout the book as Safi and Iseult try to flee their enemies. And of course there's magic as well, as all four of the main characters are witches with their own unique power.
Although the plot could move a bit slowly at times, I found that the relationships made up for it. Prince Merik and his friend Kullen also had a really close bond that I loved. The ending left me reeling and a bit devastated in regards to a particular character and I'm dying to see what happens with them in the next book. Overall, Truthwitch was an unforgettable and unique read!
Format read: Kindle ebook
Release date: January 2016
Genre: YA epic fantasy
Diversity: I think Iseult is a poc?
Rating: 4.5/5 stars
Scythe by Neal Shusterman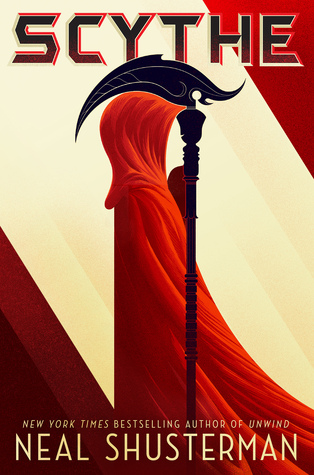 Scythe was my very first read by Neal Shusterman! I'd heard a lot of great things about his writing and was intrigued by the premise of Scythe, which depicts a world in which everyone is immortal and can be brought back from death. In order to keep the population from exploding, there are people known as Scythes, who are of the highest authority and who kill or "glean" people at random. Scythe switches between the povs of two teenagers who have been chosen to become apprentice Scythes. Neither of them are very keen to become professional killers but both have their reasons for agreeing to do so. I was very surprised by the direction Scythe took. Every time I thought I could predict the characters actions or what would happen next, I was surprised.
Scythe is a book that makes you think a lot about death, about the cost of immortality, about what it means to be human. The end of each chapter features a journal entry from one of the more experienced Scythes as they reflect on their jobs as killers and the ways that humanity has changed since the Age of Mortality, as they call the time period before immortality became something everybody had.
Both Citra and Rowan were determined not to become the kind of Scythe's who get drunk off the power and authority that comes with being one and find sick pleasure in the act of gleaning in a cruel manner. I found it intriguing being inside both their heads as they both encountered very different roads on their paths to Scythedom. I enjoyed the vast world-building and deeply philosophical storyline of Scythe and I'm definitely going to be reading Shusterman's other books.
Format read: Kindle ebook
Release date: November 2016
Genre: YA sci-fi/speculative fiction
Diversity: none but Neal Shusterman is a black author
Rating: 4.5/5 stars

The Coldest  Girl in Coldtown by Holly Black
The Coldest Girl in Coldtown is my third read by Holly Black, and although it's not my favorite book by her, I still enjoyed it and the familiarity of her story telling. Coldest Girl is a vampire book, featuring a sexy vampire love interest and some very morally grey characters. Like Scythe, it's a book that makes you think a lot about death and what it means to be immortal. Does becoming a vampire turn good people into monsters or does it simply awaken an evil that hides inside all of us?
I really admired Tana's selflessness and her willingness to help a vampire boy she barely knew. She was bold, loyal and resourceful. I also liked all the side characters-Aidan, Valerie, Jamieson, Midnight and Winter and of course Gavriel. Many of these characters weren't all good or all bad and some of their motives were questionable, which I think made the story more suspenseful and mysterious. Overall, Coldest Girl was a fun read!
Format read: Kindle ebook
Release date: September 2013
Genre: YA fantasy/supernatural
Diversity: Tana's ex boyfriend Aidan is bisexual, and a girl she befriends named Valerie, is trans
Rating: 4.3/5 stars

Lucky Few by Kathryn Ormsbee
Lucky Few is one of the many books that's been on my shelf for at least a year so I decided to finally pick it up. It surprised me in a lot of ways, mostly positive! Stevie, the main character, is homeschooled, which is something I rarely see in YA so I found that to be an interesting new perspective. Stevie is also diabetic, so kudos for some disability representation. I absolutely loved the friendship between Stevie and her best friend Sanger, a fellow homeschooler. They were close as sisters and understood each other on an almost psychic level and were both really supportive of the other.
When Stevie's new neighbor Max tells them about his mission to fake his death in 23 ways – as a form of some sort of bizarre exposure therapy after surviving a freak accident that left him with only 3 fingers on one hand – Sanger convinces Stevie to team up with him and help him complete his list of fake deaths. This results in a lot of humor, new experiences, relationship conflict, first love and a very unique and interesting coming of age story.
Besides the fake deaths, there's a whole lot more going on in Stevie's life; her cousin Joel isn't acting like himself, the political protests Stevie's been attending to prevent the water at her and Sanger's favorite hangout from being destroyed by pollutants may have been for nought, Sanger breaks the news that her and her moms will be moving out of the state at the beginning of the summer, and Stevie has an actual near death experience of her own.
Overall, Lucky Few was a very fun, thoughtful and influential read. The only thing I disliked was that I wanted to see Stevie and Max's relationship progress more, and the ending left me feeling a little unsatisfied in that aspect because it just didn't feel completely resolved. Max was quirky, odd, and endearing, if not a bit stubborn at times, but I loved how honest and unconventional a love interest he was. He felt like an authentic teenage boy, rather than some of the suave, brooding, ultra macho bad boys we sometimes see in contemporaries.  I can't wait to see read more of Ormsbees books!
Format read: Kindle ebook
Release date: June 2016
Genre: YA contemporary
Diversity: Stevie's best friend Sanger is a woc and has two moms, Stevie is diabetic, Kathryn Ormsbee is an asexual author
Rating: 4/5 stars

Wintersong by S. Jae Jones
I had a lot of mixed feelings whilst reading Wintersong. There were times I thought my overall feelings towards the book would be disappointment, and at times I wasn't even sure whether I wanted to keep reading. But then something would happen to change that and make me feel more like I was reading a masterpiece. So I needed a few days to organize my thoughts after I finished the book and I decided a solid 4 stars was a good rating. Not a favorite but I still enjoyed reading it.
I loved how lyrical Wintersong was. The main character lives and breathes music and it's reflected in her thoughts and the overall writing. The romance was very intense and although it was definitely my favorite part of the story, it was also a bit frustrating and confusing at times. The Goblin King has many different sides to him and sometimes it was hard to keep up and understand his true intentions. But in the end, it was one of the most beautifully written romances I've read in YA. It was slow and sensual and there are some beautifully written sex/makeout scenes. I also liked seeing a slightly older YA main character; Liesl is 19 going on 20, and I've always felt that YA should expand to include characters in their 20's, since Young Adult technically means anyone from 15 to their late 20's.
Wintersong was a bit somber at times; mystical and enchanting at others. I really enjoyed all the different relationship dynamics-the way Liesl bonded over a shared love of music with her brother, the love and understanding between Liesl and her sister Käthe despite their vast differences and the fiery, passionate romance between Liesl and The Goblin King. I'm sure I'll read the sequel eventually, but I'm in no rush to after all the muddled emotions that Wintersong left me with.
Format read: Kindle ebook
Release date: February 2017
Genre: YA historical fantasy
Diversity: Liesl's younger brother Joseph is gay, S Jae. Jones is an Asian American author
Rating: 4/5 stars
Dorothy Must Die by Danielle Paige
Unfortunately, this one just wasn't for me. I wanted to like it but the writing was just too poor and the storyline too ridiculous that I couldn't take it seriously.
Format read: kindle ebook
Release date: April 2014
Genre: YA fantasy/classical retelling
Diversity: none but Danielle Paige is a black author
Rating: DNF (did not finish)
And that's it for February! I'd say it was a pretty good reading month overall. Did yall read any good books last month? What were your faves? Least faves?