2018 is going to be an excellent year for YA debuts, sequels and new books from favorite authors. How do I know this? Because I've already read several 2018 releases! Here are my favorite January and February releases (so far).
Gunslinger Girl by Lyndsay Ely     Release Date: January 2nd, 2018
What I loved about it:
I love YA westerns and I love them even more when they're blended with other genres! Gunslinger Girl is kind of a western/dystopian mix, with a western setting in the era of a second civil war.
An eccentric cast of characters! My favorite in particular was the love interest, Max, with his spiky hair and eyeliner and huge heart.
A bad-ass heroine who's tough both physically and emotionally. Not only can she shoot a gun with near perfect aim,  she's also resilient, whip-smart, resourceful and can hold her own.
There's a circus! Kind of. Any kind of circus in a non-contemporary setting is something I'm always excited to see. This one in particular consisted of some very deadly and dangerous acts.
Pitch Dark by Courtney Alameda      Release Date: February 20th, 2018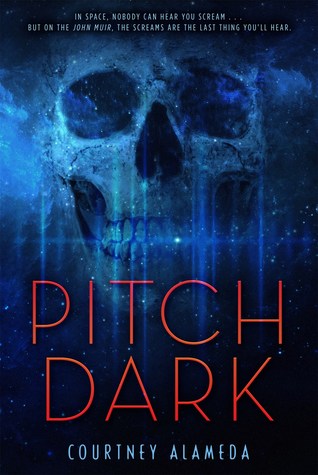 What I loved about it:
Courtney Alameda's first book Shutter was a favorite read of 2016 so I was beyond excited to get my hands on an arc of her second book. Well, it didn't disappoint, not by a long shot!
It has two of my favorite things ever in books: outer space and horror!
It features a fierce Latina main character with a talent for hacking, and a deep knowledge of ancient artifacts from long forgotten and destroyed planet earth. She's super loyal to her family and friends and her fierce love for them is shown through her actions, her thoughts, her selflessness and the way she puts her own life in danger for the sake of theirs.
It's told from the POV's of two teens from opposite worlds. Laura, who's lived a privileged life, has grown up in space working with her parents to preserve ancient human artifacts and protect the future of the human race. Tuck on the other hand, lived on earth for most of his childhood before boarding his mother's spaceship to leave behind a planet succumbing to human pollution, and he and his crew have slept in stasis for about 400 years. So they're quite literally from different worlds, despite them both being human.
It's a story about people fighting for their lives while stranded in space after two ships crash into each other. There are various types of monsters living in the deepest and darkest parts of the ship and a whole lot of creepiness and suspense ensues. I looooooove creepiness!
Everless by Sara Holland     Release Date: January 2nd, 2018
What I loved about it:
Everless has such a unique concept; it's set in a world in which time is used as currency. Year's of peoples lives can be taken through extracting their blood, and the blood is then turned to iron stored in coins. All debts and payments are made using the blood-iron.
There's a very unexpected turn regarding the romance aspect; it seemed obvious who the main character, Jules, would fall for but then I sensed the beginning of a very subtle romance between her and someone else unexpected….and the way things ended left me very eager for book two! The romance is very, VERY subtle though, and the story relies more on plot and world building, which I think worked out very well in this case.
Amazing world building and character development! There were so many twists and turns and revelations, so many difficult choices to be made, mysteries to unravel, evils to fight…Jules has to determine who she can and cannot trust.
Did I mention plot twists? I NEVER saw these ones coming. I was honestly shocked. I love being shocked.
Daughter of the Siren Queen by Tricia Levenseller    Release Date: February 27th, 2018
What I loved about it:
Alosa is just as fierce and ruthless as before but we get to see a different side to her as well. This side lets her to view the life she's always known from a different perspective and allows her to stand up to someone she's revered her entire life. We see a softer side to her as well, as her relationship with Riden develops.
All of Alosa's relationships are put to the test. Her crew member's loyalty and trust in her is tested. Stakes are raised and lives are lost. Her growing romance with Riden forces her to stop and evaluate herself and decide who she wants to be.
We get to see more of Alosa's siren powers put to use! I felt like seeing this new part of her and how she used it really helped me to feel more connected to her and understand her actions and feelings.
There are cannibals! And other terrifying beings. That's all I'm gonna say. Don't wanna give too much away!
Reign of the Fallen by Sarah Glenn Marsh    Release Date: January 23rd, 2018
What I loved about it:
Zombies! It has zombies! But they're different from the typical zombies. When people die, they can be brought back from the dead but it comes with a price; they must remain shrouded at all times, with all their skin covered. If someone catches a glimpse of their skin……BAM. They turn into a flesh-eating monster that won't stop killing until it's killed with fire. I loved this interesting and unique twist on zombies.
A bisexual heroine! There are multiple potential love interests for the main character Odessa, including both boys and girls.
Lots of characters of color, & lgbt characters. The world of Reign of the Fallen is one in which love is love and all sexualities are accepted and normalized. Straight isn't the default and not all the characters are white!
Tragedy! I cried a lot while reading this book and although I kinda hate when a book breaks my heart, I also kinda love it too. It's a love-hate relationship. Books are supposed to make you FEEL things and that's exactly what Reign of the Fallen did.
Strong platonic friendships. Odessa has many faithful friends who've always been there for her and continue to look out for her throughout the many trials and dangers they endure together. She also makes a few new friends along the way. I found both her old and new friendships to be very heartwarming and motivational even as I was crying my eyes out. Jax and Simeon are both sweethearts, and I really came to like Valoria and Meredy as well.
The Cruel Prince by Holly Black    Release Date: January 2nd 2018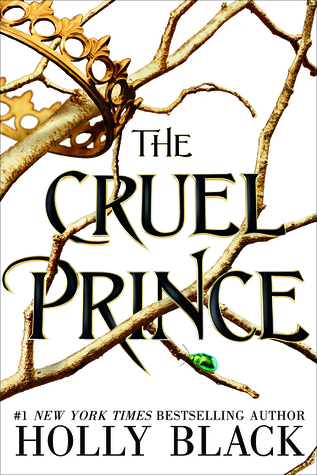 What I loved about it:
Faerie land! I love magical, dangerous, woodland settings filled with fantastical creatures and ruthless faerie princes.
Twins! I'm always down for reading a book with twins so I was immediately hooked upon being introduced to Jude and her identical twin sister Taryn. They're both vastly different in the ways they deal with living as mortals in such a terrifying, merciless world full of immortal fey.
Some subtle lgbt representation: Jude and Taryn's older sister Vivienne is bisexual, and although she's only a side character, I still appreciated the presence of a non-heterosexual character. Although she didn't play a huge role, I really liked Vivi's character a lot; her snark, her wit, her defiance against Maddoc, and most of all her loyalty to her sisters and the way she looked after them.
Jude! Jude! Jude! What a sly, wicked clever heroine. I rooted for her whenever she stood up to her bullies and was very impressed with her quick thinking, her survival skills and the ways she adapted to any sudden and unpredictable new situation. She's definitely somebody I'd want on my side in faerie land.
The Queens Rising by Rebecca Ross    Release Date: February 6th, 2018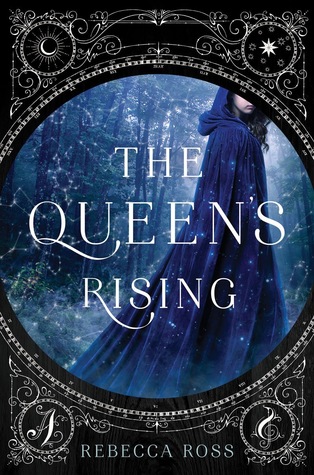 What I loved about it:
Revolution! The heroine, Brienna, and her companions are preparing to rebel against a ruthless king and replace him with the princess whose rightful seat on the throne he stole. I love stories about people banding together to overcome an unfair dictatorship and restore peace and justice to a land that's been ruled with violence for too long.
The romance is subtle and slow-burn but sweet. The main character and the love interest are close friends before anything romantic happens between them and nothing about their romance was rushed or overdone.
There were many strong friendships-from the relationship between Brienna and her passion sisters, to her relationship with her new family and the princess and everyone else she worked with to take over the tyrannical king. There was a strong sense of companionship at the heart of the story and many new relationships were formed throughout Brienna's journey.
Action! Adventure! Intense fight scenes! I can't even put into words how intense it all was. There's so much suspense and excitement as Brienna and her comrades plan and prepare to take down the king without getting caught or killed in the process.
Nice Try, Jane Sinner by Lianne Oelke    Release Date: January 9th, 2018
What I loved about it:
It was a great portrayal of mental illness and self recovery!
It's written in a unique format, featuring journal entries detailing Jane Sinner's journey into adult life, independence, recovery, and life on a reality tv show
Weird characters. Some of the people Jane was competing against on the reality show were just downright strange and that made the whole experience all the more entertaining to read about from Jane's perspective as she wrote in her journal
A veryyyyyy suble romance. It makes up a very small part of the book, as Jane and her romantic interest are just friends for the majority of her time on the reality show. They were also competing against each other to win the show, so that was a bit of a hinder on their relationship. So this book was not heavy in romance at all and there wasn't much room for swooning but that really fit Jane's story perfectly. It was cute, but didn't overshadow Jane's personal journey.
Jane is kind of a prickly character at first. She's hard to understand and she can come off as kind of selfish and non-empathetic and blunt at times. But that made me like her more because she was unusual and wasn't afraid to speak her mind. And as the book goes on you get to see that she actually feels a lot more than she appears to and cares a lot more than she shows.
Winner Take All by Laurie Devore    Release Date: January 30th 2018
What I loved about it:
I loved reading from the POV of a female character who's ambitious and driven and determined to get her way. It made her hard to like at times but I admire a heroin who won't back down from a fight and doesn't give up easily. Nell's unhealthy desire to remain on top made her an imperfect character, but I couldn't help but root for even as I found myself wanting to shake some sense into her.
The romance! Laurie Devore really knows how to write a romance that is equal parts adorable and intensely passionate. I loved her first book How to Break a Boy, and her second novel didn't disappoint either.
Jackson! What a sweetie. Sometimes. He had some serious issues, but so did Nell. But overall, although it took Nell awhile to see it, he had a whole lot of respect and patience for her and it was apparent that he still liked her in-spite of her tendency to be over-dramatic and overly competitive. Jackson could be an asshole at times, just like Nell could be extremely difficult by constantly needing to be on top. My god there was a whole lot of drama and two of them together was a mess at times but I appreciated their imperfect relationship and how the ups and downs shaped their characters and the dynamic between each other.
The family aspects. I felt like Devore did a really good job portraying Nell's issues with her family and the pressure she felt from her mom's expectations and her parents arguments. It gave me a lot more insight into her character and the reasons behind her competitive, ambitious nature.
Meet Cute by multiple YA authors     Release Date: January 2nd, 2018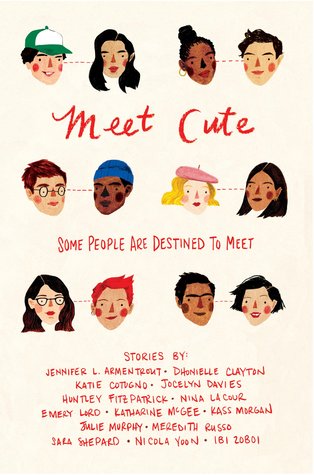 What I loved about it:
So many authors I love! I adore cutesy stories and I was so happy to see so many great writers included in this short story compilation.
I loved the overall concept for the short stories-romances or friendships beginning with two people meeting in unexpected places or brought together through unexpected circumstances. Each story was unique and entirely different from the last.
Plenty of diversity! There are love stories between two boys or two girls, plenty characters of color, a transgender character, and more! I loved the variety and that there were more than just heterosexual, white romances.
An abundance of genres! There are contemporary meet-cute stories, and science fiction or fantasy ones as well. So I was never bored reading through these touching tales. I loved the majority of them. Such feel good romances!
So there's that! I wish I could've had time to read and review all the January-February releases, but 10 is better than none! Have you guys read any of these yet? Which ones are you most anticipating?