November was a fabulous month for reading. I read 14 books! And I thoroughly enjoyed most of them. So many new books I can add to my favorites list!
This Mortal Coil by Emily Suvada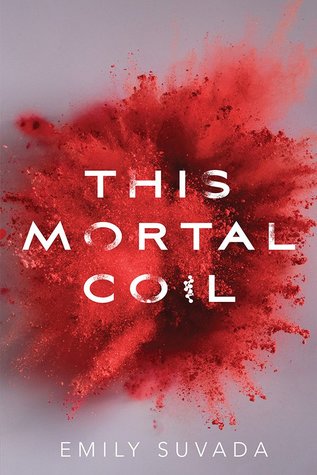 As you'll know if you read my review of This Mortal Coil from a couple days ago, I was absolutely mind-blown by this book! I mean, a world in which DNA can be altered and  the main character is an expert gene hacker? Such a genius, unheard of concept! Plus there's a subtle yet powerful romance, a race to obtain a cure for a deadly plague, and a whole lot of action and unexpected betrayals. Definitely one of the best sci-fi's I've ever read and one of my top ten favorite reads of this year. Read my review here.
Rating: 5/5 Stars
The Killer in Me by Margot Harrison

Have you ever wondered what it'd be like to see through the eyes of a killer? Ever since she can remember, Nina Barrows has been able to do just that. This story is told in dual POV's by Nina and her friend Warren. We're given a glimpse through the eyes of the Thief in the Night (as the killer calls himself) as Nina slips into his thoughts and sees through his eyes every night. As Nina and Warren travel through the desert together-Warren to visit a potential college and Nina to meet her birth mother-they each deal with their own internal conflicts. When Nina finally comes face to face with the killer she's been connected to her entire life, she must decide whether her visions have any truth to them or are just a product of long lost memories that became warped and altered in her mind. This book was impossible to put down and there were a few shocking twists that completely blew my mind. I loved being inside both Nina and Warrens minds as they grew closer and worked to unravel the truth behind Nina's haunting visions, and I was sad when their story came to a close. I'm definitely looking forward to Margot's next book.
Rating: 4.5/5 Stars
How to Break a Boy by Laurie Devore
I love love looooove reading about female characters who aren't necessarily likable or noble or moral in the beginning but undergo a redemption arc and a mega transformation. As Olivia Clayton plots to get revenge on her ex-best friend turned frenemy, she finds herself falling for the guy she's using as part of her plan, and discovers that it may be harder to leave behind her mean-girl ways than she thought.
Although it was very difficult to like Olivia at times, I was still rooting for her to get the guy and leave her back-stabbing, manipulative, mean-girl ex-best friend in the dust. There's an abundance of drama and secrets, betrayal and internal conflict as Olivia learns to change her ways and discover what she truly wants and who she wants to be. I loved the banter and romance between her and Whit, the emotional and behavioral insight into Olivia's character and her journey to redemption and self-forgiveness. Laurie Devore has a new book called Winner Take All releasing in January and I'm lucky enough to have snagged an arc! I can't wait to see what's in store for her second novel.
Rating: 4.5/5 Stars
Run the Risk by Allison Van Diepen
I love second chance romances and I love bad-boy love interests who actually aren't really bad guys at all.  So I was eager to read this love story about a girl who's in love with the guy who chose the gang life over her but is trying to right his wrongs and prove to her that he's changed. Overall I enjoyed the story and the characters. I thought Mateo was perfectly swoony and I liked getting to see how Grace's relationship with her brother Alex changed for the better as she looked after him and tried her hardest to keep him out of trouble. I was a little disappointed in the lack of detailed romance scenes though. For some reason I assumed they'd be a little steamier and less fade-to-black. So that part kinda fell flat, although I liked the relationship between Grace and Mateo overall-it was made up of mutual respect, love, trust and passion, even if they had a lot of hurdles to overcome first. I'll probably read more of Allison Van Diepen's books and enjoy them more now that I know what to expect from them.
Rating: 4/5 stars
This Shattered World by Amie Kaufman and Meagan Spooner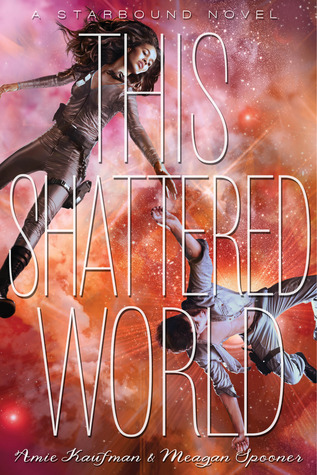 I enjoyed This Shattered World as much as I did its predecessor These Broken Stars. Jubilee and Flynn are quite literally star-crossed lovers; they're enemies on opposite sides of a rebellion. When the two cross paths, Flynn takes Jubilee prisoner in the hopes that he can negotiate her safe return in exchange for answers regarding a secret building hidden in the outskirts of the swamplands. But soon they find themselves working together to uncover the mystery behind the aforementioned hidden building-one that may be run by an organization that could be the very reason their world is at war.
It's told in their alternating POV's as they fight to survive and learn to trust one another and uncover the truth. I loved every action-packed second and the complicated enemies-to-lovers relationship between them. I loved getting to see more of Tarver and Lilac, the heroines of These Broken Stars, and how they interacted with Jubilee and Flynn as well. Now, on to book three!
Rating: 4.5/5 Stars
A Shadow Bright and Burning by Jessica Cluess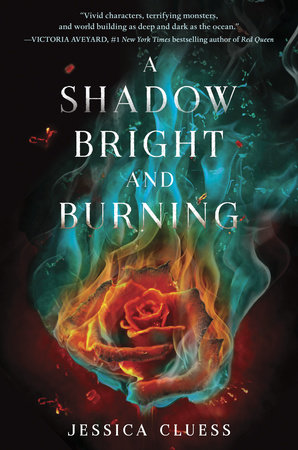 Henrietta 'Nettie' Howel has the power to burst into flames in a patriarchal Victorian London where men with magic are called sorcerers and women with magic are deemed witches and sentenced to execution. So when she's forced to use her powers to save her friend, she's shocked when she's instead invited to train as a sorceress. They think she may be the prophesied one, the first female sorcerer in hundreds of years. As she trains to fight demons and harness her powers, she finds herself torn between handsome men, faces betrayal and self-doubt as she questions whether she really is who they think she is; a force destined to defeat the demons that have been terrorizing London for centuries.
A Shadow Bright and Burning was a wild ride from beginning to end. I've never had so many mixed feelings for so many characters before-from Rook to Magnus to Blackwood to Master Agrippa-they have so many different sides to them that are revealed in such astonishing ways and I was on edge the entire time, wondering who to trust and whom Henrietta would remain friends with or become enemies with. I was impressed with Nettie's refusal to let her identity as the only female sorcerer cause her to feel inferior to her male counterparts. She worked hard to prove herself to those who treated her like dirt and I greatly admired her compassion for her friends and for the people of London she was trying to protect. I'm all for Rook and Nettie as a couple but I adored Magnus too, even though he really tested my patience at times with his arrogance. He completely made up for it though. I'm super excited to jump into book two, which came out in September.
Rating: 5/5 Stars
The Accidental Bad Girl by Maxine Kaplan
The Accidental Bad Girl is a May 2018 release, so I was lucky to get my hands on an arc this early. I have mixed feelings about it though. While I enjoyed Kendall's character, and the supporting characters Gilly and Sloane, I felt like it was a bit unrealistic as a story for a highschool girl. The way she handled everything so expertly-being bribed by a drug dealer, being kidnapped by undercover cops, etc-seemed a little unbelievable.
I did really like the feminist aspects thrown in though-the way Sloane's story was handled and how Kendall dealt with being ostracized and slut-shamed. And I was really disappointed with how Kendall's relationship with one of the characters played out. It was an entertaining read that talked about some very important topics but overall It felt a bit too over the top to me and there were some parts I wish had turned out differently.
Rating: 3.5/5 Stars
Dig Too Deep by Amy Allgeyer
I'm a bit of a tree hugger and a wannabe environmental activist so Dig Too Deep was a very motivational and refreshing read. It follows Liberty, who finds herself having to move in with her grandmother after her activist mother is arrested following a violent political protest. Liberty has always hated her mother's activist nature. It causes her to feel neglected since her mother seems to care more about carrying out protests and fighting authority than she does looking after her own daughter. And now, with her mom in prison, Liberty is angrier towards her more than ever.
But upon arriving in her Grandmother's small mountainside town of Ebottsville, Kentucky, Liberty finds that she may be more like her mother than she'd like to admit. The town's water appears to be extremely dangerous and unhealthy. It's neon orange, for one. And her grandmother is coughing up blood. Liberty suspects the mining company, owned by Ebottsville's most richest and powerful man, Mr. Peabody. Officials claim the water is safe, but Liberty isn't convinced, so she sets out to gather evidence and take the mining company down.
I loved Liberty's persistence and determination, her passion to protect her grandma and stand up to authority. She was really brave to continue fighting for what she believed in, even after receiving threats from Peabody and his followers. I particularly loved this one scene where she stood up to an asshole of a guy who tried to get in her way and boss her around. Liberty's story was inspiring and believable and I loved the relationship she had with her grandmother and with her new friend Dobber as well. I'd love to read more from Amy Allgeyer!
Rating: 4.5/5 Stars
Love Life and the List by Kasie West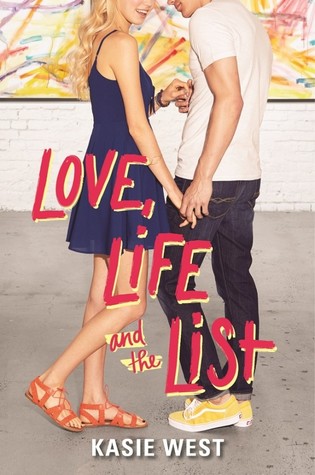 I've been reading Kasie West's books for years. I can always count on her to deliver a light hearted but unforgettable romance about self discovery, family and personal growth. I loved Abby's passion as an artist and admired her determination to improve her paintings and prove to herself and others that she had what it took to be a professional.
Friends-to-lovers romances are one of my favorite romance tropes so I loved seeing Abby and Cooper's relationship develop very slowly from one of friendship to one of romance, even if it took awhile for Cooper to come anywhere close to admitting his feelings. Love, Life and the List is about a summer filled with new experiences, and about learning to put yourself out there. It's about self growth, shown by how Abby forces herself to try new things and really put herself out there so that she can truly put her heart into her work. I loved every minute of it. Kasie never fails to write the most adorable, fun, contemporaries.
Rating: 4.5/5 Stars
Ripple by Heather Smith Meloche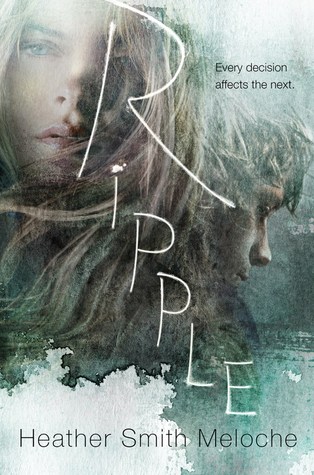 Ripple is told in the alternating POV's of Jack and Tessa. Jack is struggling to look after his mom as her schizophrenia grows increasingly worse, whilst also struggling to stay out of trouble despite his penchant for pranks and challenging authority. Tessa is dealing with the pressure her Grandmother is putting on her to take over the family business, her drunken step dad's constant yelling and insults, and the internal guilt and self-loathing she feels every time she sleeps with another guy behind her boyfriends back. But she can't seem to stop and doesn't know how else to cope. She wants to be an artist but can't find the strength to stand up to her Grandmother. The two of them are brought together through circumstance and are drawn to each other over their equally complicated lives.
I thought the writing was gorgeous and the characterization of each of them very well done. I finished this one in about a day and although I enjoyed it for the most part, it did feel like everything came together a little too quickly in the end. I almost wish their story could've been split into two books, even though I usually prefer contemporaries as stand-alones. I just felt like I didn't get to see enough of Jack and Tessa as a couple after they overcame their problems and their internal struggles. There was so much romantic and sexual tension between them but we didn't really get to see it fully play out. Overall I enjoyed the story-line but I didn't feel all that satisfied with the ending, and I'm not sure how I felt about the representation of Schizophrenia either. It seemed a bit over-dramatic to me.
Rating: 4/5 Stars
Star Struck by Jenny McLachlan
Unfortunately, I DNF Star Struck. It just wasn't for me. I guess I found the main character to be too shallow and the storyline didn't capture my interest. That's just my personal opinion though! I'm sure some people may find it to be a cute, light-hearted read.
Firstlife by Gena Showalter 
I've been a fan of Showalter since her Alice in Zombieland series. Somehow she knows how to mix just the right amount of humor and drama and action and tragedy-it's never too overwhelmingly dark. Tenley or "Ten" is a snarky, resilient, independent and hilarious main character who is determine to make her own decisions regarding her afterlife and won't let anyone force her to bend to their will; even when her own parents send her away to an asylum where she's tortured and manipulated in an attempt to drive her to pick the realm that her parents have sided with. It was fascinating to read about a world in which the afterlife (life after death) is considered more important than a persons "firstlife."
Troika and Myriad, the two afterlife realms, are vastly different and it's obvious why Tenley has such a hard time choosing which one to sign with. The realms are at war with each other and each of them see Tenley as a vital addition to the betterment of their world. I loved Killian and Archer and Sloane and can't wait to read book two and see how the ongoing war between the realms plays out. There's no love triangle so don't worry. Killian is the main love interest while Archer becomes more like a brother to Tenley. Gena never fails to deliver in the romance department and I'm looking forward to further development of Tenley and Killian's relationship.
Rating: 4.5/5 Stars
Reign of the Fallen by Sarah Glenn Marsh
I love dark fantasies and I love books about zombies. Reign of the Fallen comes out in January 2018-so mark your calendars! I feel like there aren't nearly enough zombie stories in YA! Or maybe that's just me? The 'zombies' in this story are unique though. The main character in this story, Odessa, is a necromancer, someone in charge of raising dead royalty again and again so they can continue to rule and look after the kingdom. The dead must always wear shrouds that cover their entire face and bodies. If a living person catches a glimpse of their skin, it turns them into a 'Shade'  which is a flesh eating monster that can only be killed with fire.
Let me warn you-this book made me SOB. There's a particular scene that literally left me crying the entire rest of the time I was finishing the book. Ouch. I loved every second of this book though. The characters are extremely diverse-many of them are characters of color, and Odessa herself is brown skinned and bisexual. There are so many potential love interests, both male and female, and I can't wait to see what happens in terms of the romance in book two.
This book was darker than I expected, although I don't what exactly I was expecting. It's a book about zombies, Becca, hello! Duh! It has an amazing plethora of characters, nail biting suspense and horror, adventure, grief and tragedy. There's incredible world building as Odessa deals with loss and struggles with the idea that the ability to bring back people from the dead may bring back more harm than good. My heart still hurts over that one scene though. Ouch. You're not forgiven yet Sarah! I'll be participating in the blog tour for Reign of the Fallen next month and interviewing Sarah Glenn Marsh, so keep an eye out for that!
Rating: 5/5 Stars
The Reader by Traci Chee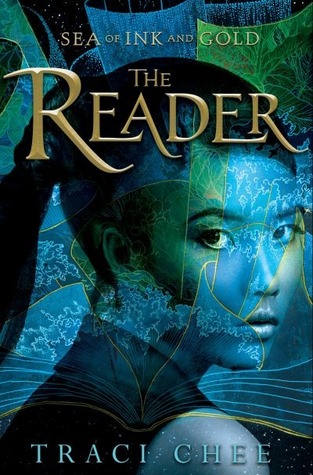 The Reader is a diverse fantasy that take place in a world where books have been banned and reading is unheard of. Sefia is on the run after her last surviving family member is captured and taken away. Along the way she rescues and makes friends with a boy who has been imprisoned and forced to fight his whole life. Together, they set out to rescue Sefia's Aunt Nin, using an old book that used to belong to her father as their only guide, and one that may be the reason her parents were killed.
The story switches between multiple POV's and at times it was a little hard to keep up with everything and keep the many different characters straight. There are pirates and assassins and unlikely allies, but my favorite relationship was Sefia's bond with Archer, a boy who doesn't talk but who still seems to understand her better than anyone else. The writing is beautiful and elegant, the world building slow but mesmerizing. There are people with different types of powers too-like the ability to see into another person's past or a glimpse of their possible future. Everything about the story-telling and the plot is unique and enchanting and it was hard to put down. Although it was difficult to follow at times, I'm definitely looking forward to reading the sequel.
Rating: 4.5/5 Stars
I also had the pleasure of meeting Jessica Cluess and Traci Chee -as well as Cindy Pon- at a book signing a few weeks ago! Jessica is one of the funniest authors I've ever met and both her and Traci were super sweet.
So that's that! Did you guys read any good books this month? Which was your favorite?