Here are some reviews for YA Contemporaries I've read recently!
Up to This Pointe by Jennifer Longo
Title: Up to This Pointe
Author: Jennifer Longo
Release Date: January 29th, 2016
Publisher: Random House Books for Young Readers
Source: Local Library
Genre: Contemporary/Realistic Fiction
Summary: She had a plan. It went south.
Harper is a dancer. She and her best friend, Kate, have one goal: becoming professional ballerinas. And Harper won't let anything—or anyone—get in the way of The Plan, not even the boy she and Kate are both drawn to.
 
Harper is a Scott. She's related to Robert Falcon Scott, the explorer who died racing to the South Pole. So when Harper's life takes an unexpected turn, she finagles (read: lies) her way to the icy dark of McMurdo Station . . . in Antarctica. Extreme, but somehow fitting—apparently she has always been in the dark, dancing on ice this whole time. And no one warned her. Not her family, not her best friend, not even the boy who has somehow found a way into her heart.
Mini Review: Antartica? Ballet? When I first read the synopsis, I was intrigued by the unusal mix and knew I had to read this book, and I'm so glad I did. I loved Harper and the heart and soul she put into ballet, how she gave it her all even as she slowly began to doubt herself, and my heart broke for her when it all came crashing down. Through it all, her family was there for her, as was Owen, her brothers friend, who was so very humble and sincere and I loved him immediatly. Her brother Luke was equaly likeable.
Props to Longo for the interracial romance, and for making Charlotte, the Antarctican scientist, black. You can never have too much representation. I loved Charlotte so much, she was insightful, inspiring and fiercely independent and such a good role model for Harper to look up to as she tried to come to terms with the changes in her life.
I loved that the chapters went back and forth between her time in the arctic and the months leading up to it, it really helped capture exactly what Harper was going through and how strongly it had affected her, and why she felt that the only way she could move on was to temporarily run away, distract herself with studying the penguins and experiencing the northern lights of Antarctica. It was a beautiful, moving story that I recommend to anyone looking for a unique contemporary read.
Rating: 4 Stars
No Place to Fall by Jaye Robin Brown
Title: No Place to Fall
Author: Jaye Robin Brown
Release Date: December 9th, 2014
Publisher: Harper Teen
Source: Kindle
Genre: YA Contemporary/Realistic Fiction
Summary: Amber Vaughn is a good girl. She sings solos at church, babysits her nephew after school, and spends every Friday night hanging out at her best friend Devon's house. It's only when Amber goes exploring in the woods near her home, singing camp songs with the hikers she meets on the Appalachian Trail, that she feels free—and when the bigger world feels just a little bit more in reach.
When Amber learns about an audition at the North Carolina School of the Arts, she decides that her dream—to sing on bigger stages—could also be her ticket to a new life. Devon's older (and unavailable) brother, Will, helps Amber prepare for her one chance to try out for the hypercompetitive arts school. But the more time Will and Amber spend together, the more complicated their relationship becomes . . . and Amber starts to wonder if she's such a good girl, after all.
Then, in an afternoon, the bottom drops out of her family's world—and Amber is faced with an impossible choice between her promise as an artist and the people she loves. Amber always thought she knew what a good girl would do. But between "right" and "wrong," there's a whole world of possibilities. 
Review: This was a quick, sweet read about a girl who's always been known as a 'good girl' who always follows the rules and does as she's told. Amber yearns to find a life outside of her small town, to make it big as a singer, and she's crushing on her best friends brother, who, although unavailable, she can't help but feel attracted to. As she prepares to tryout for a competitive arts school, she finds herself making new friends and falling for Will more and more as her helps her practice for her audition.
Amber, while not at all perfect, always tries her best to keep everyone she loved happy. Even when they'd hurt her, she didn't hold onto grudges or turn away from them: Not her reckless sister Whitney, no matter how rude she was to her, or how ungrateful she appeared towards Amber's help in caring for her child and putting up with her asshole of a husband. Not her best friend Devon, as her started spending less time with her and more time with the new guy he was crushing on. Not her mother, as she desperately ignored her husbands lack of faithfulness and had trouble letting Amber grow up and go after her dreams.  Not even Will, as he continued to act hot and cold towards her and play with her feelings.
It was admirable how patient she was, although a little frustrating, because I wanted her to stand up for herself. To demand the respect she deserved. I loved the amount of music and singing that was in this story, and I think Brown did a wonderful job of portraying exactly how influential music can be. The romance, although complicated, matured gracefully and I loved how their relationship grew and how it all turned out. It was the perfect blend of family drama, embracing your passions and learning to believe in yourself. Although, I wish we could have seen a little more happen, the ending did leave me feeling mostly satisfied. Definitely one of my favorite contemporaries I've read this year so far.
Rating: 4 Stars
First and Then by Emma Mills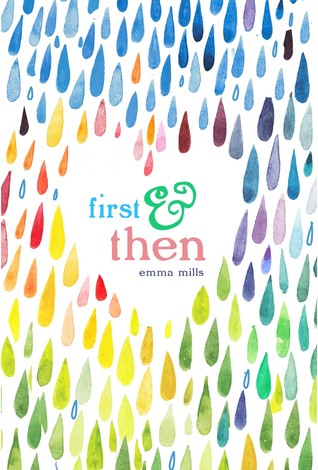 Title: First & Then
Author: Emma Mills
Release Date: October 13th, 2015
Publisher: Henry Holt and CO.
Source: Local Library
Genre: YA Contemporary/Realistic Fiction
Summary: Devon Tennyson wouldn't change a thing. She's happy watching Friday night games from the bleachers, silently crushing on best friend Cas, and blissfully ignoring the future after high school. But the universe has other plans. It delivers Devon's cousin Foster, an unrepentant social outlier with a surprising talent for football, and the obnoxiously superior and maddeningly attractive star running back, Ezra, right where she doesn't want them: first into her P.E. class and then into every other aspect of her life.
Pride and Prejudice meets Friday Night Lights in this contemporary novel about falling in love with the unexpected boy, with a new brother, and with yourself.
Review: A short and sweet story about a girl's growing and changing with her relationship after he comes to live with her family. Devon was not happy about this at first, but as they were forced to spend more time together, they became closer, sticking up for each other, sharing thoughts and feelings, and it was one of the most touching familial relationships I've ever read, the kind that makes you feel all warm inside.
I loved Foster, he was weird and sincere and didn't judge anyone no matter how strange they were. Ezra was a very likable love interest, Devon had presumed him to be an asshole simply because of his jock status, but as he grows close to both her and her cousin, she begins to see that that wasn't true at all; that he was sensitive, smart and selfless. The romance was perfectly realistic, it wasn't rushed or clique, and all the awkwardness and conflict of high school was included so that it felt like it honestly could have been a true story. I loved the three of them together, they complimented each others differences perfectly. An impressive debut, and I can't wait to read more from Emma Mills!
Rating: 4 Stars
I'll Meet You There by Heather Demetrios
Title: I'll Meet You There
Author: Heather Demetrios
Release Date: February 3rd, 2015
Publisher: Henry Holt and CO.
Source: Kindle
Genre: YA Contemporary/Realistic Fiction
Summary: If Skylar Evans were a typical Creek View girl, her future would involve a double-wide trailer, a baby on her hip, and the graveyard shift at Taco Bell. But after graduation, the only thing separating Skylar from art school is three months of summer…until Skylar's mother loses her job, and Skylar realizes her dreams may be slipping out of reach.
Josh had a different escape route: the Marines. But after losing his leg in Afghanistan, he returns home, a shell of the cocksure boy he used to be.
What brings Skylar and Josh together is working at the Paradise—a quirky motel off California's Highway 99. Despite their differences, their shared isolation turns into an unexpected friendship and, soon, something deeper.
Compelling and ultimately hopeful, this is a powerful examination of love, loss, and resilience.
Review: Where do I start….?
I'll start by saying that I absolutely loved to book, it made me feel such a wide range of emotions as Josh and Skylar endured the ups and downs of falling in love. The chapters are told back and forth between their alternating perspectives. Josh reminisces about the war and the trauma he went through, all the changes it brought to his life, and struggles to find a way to move on from the past as he finds himself falling for Skylar, who is counting down the days until she can get out of their tiny town, but terrified of leaving all her friends behind.
There were so many things I loved about this story: Skylar's relationship with her two best friends, Dylan and Chris. I was satisfied that her relationship with Chris was mutually platonic, nothing more. I loved that Dylan had a kid but was never slut shamed or belittled for it. I loved Skylar, and her ability to forgive, her loyalty to her friends, and her zero tolerance for bullshit. I loved that Skylar did her best to care for her mom and wanted to see her happy, no matter how much hell she put her through. I loved the fact that Skylar was poor, and that we got to see how much of a struggle it can be to grow up in poverty. It made me grateful for what I have. I loved that Josh and Skylar's relationship was slow building, that they'd known each other all their life, but in a way, didn't know each other at all, and were gradually beginning to see the different sides to each other.
I even loved the fact that Josh wasn't perfect, not even close. He honestly could be a huge asshole at times, and he made some homophobic remarks, but I was glad to see that they didn't go excused, Skylar called him out on a particular comment of his, and he admitted it was wrong. I did feel frustrated with him because of this, and initially had a hard time liking him. He seemed to use what he'd went through as an excuse to be awful at times, but as he grew closer to Skylar, he began to become less and less of a jerk, and I could see he truly wanted to be a better person. I felt myself growing to love him right alongside Skylar, as their friendship blossomed and he opened up to her. He was determined not to hurt her, and had a lack of faith In his ability to do so, which made him very closed off at times, and he'd try to push Skylar away, only hurting even more in the process.
It's not an easy love story at all, they go through a lot, and it takes them a long time to work things out, and I often found myself frustrated at the lack of communication. But overall I was content with how things turned out, the ending left a lot of room for a positive future for both of them, together, even as they had to continue down their separate paths. Despite the few misgiving I had about Josh, I still would have to say that this is one of the best YA books I've ever read, and I hope you like it as much as I do.
Rating: 5 Stars
OCD Love Story by Corey Ann Haydu
Title: OCD Love Story
Author: Corey Ann Haydu
Release Date: July 23rd 2013
Publisher: Simon Pulse
Source: Local Library
Genre: YA Contemporary/Realistic Fiction
Summary: When Bea meets Beck, she knows instantly that he's her kind of crazy. Sweet, strong, kinda-messed-up Beck understands her like no one else can. He makes her feel almost normal. He makes her feel like she could fall in love again.
But despite her feelings for Beck, Bea can't stop thinking about someone else: a guy who is gorgeous and magnetic… and has no idea Bea even exists. But Bea knows a lot about him. She spends a lot of time watching him. She has a journal full of notes. Some might even say she's obsessed.
Bea tells herself she's got it all under control. But this isn't a choice, it's a compulsion. The truth is, she's breaking down…and she might end up breaking her own heart.
Review: When I first read the title of this book, I was a little skeptical. I didn't know what to expect-I wondered, is this truly a story about someone who suffers from OCD, or is that term just thrown in there to make it seem "quirky"? Will this story give an educated representation of what this mental illness really is, or will the term just be thrown around to describe some behaviors that most people think come from OCD but really don't?
I was glad to discover that this was a very real portrayal of what life is like for someone suffering from Obsessive Compulsive Disorder. Bea's behavior was believable for someone who has both obsessions and compulsions-she didn't realize that her habits were unusual, to her, they were necessary. She felt as though she had to follow certain rituals. If she didn't, she'd have panic attacks from worrying that something would go horribly wrong. It was frustrating to watch her struggle to hold onto relationships even as her obsessions began getting in the way, and parts of her story even made me cry because I could feel how hard it was for her, how embarrased she sometimes was because of it.
I HATED her friend Lisha. She was kind of a fake-supportive friend; she'd help Bea carry out her harmful tasks instead of telling someone or trying to get her to stop, and at the same time she'd make fun of her, make her feel bad for her obsessions and compulsions instead of trying to understand what she was going through. She really pissed me off and I wanted so badly for Bea to stand up to her, to realize how bad of a friend she really was, but she didn't, which was understandable for her, but still irritating.
Beck, on the other hand, I loved. He was a little messed up, like Bea. He had his own compulsions and obessions and sometimes, because of this, they'd clash. It was hard for them to help each other when they were both struggling to get better in their own way-or remain in denial. I loved how Bea didn't care that Beck wasn't perfect or normal; she liked that he was different, and she accepted his flaws, even as they got in the way. Their story was frustrating but believable for two teens trying to fit in and learn to better handle their illness. It was awkward, touching and complicated in all the right ways. If you're looking for a good representation of OCD, read this book. I have a diagnosis of mild OCD myself, and although I didn't relate completely-my obsessions and compulsions are much different-I was satisfied with the way this topic was written for this particular story.
Rating: 4 Stars